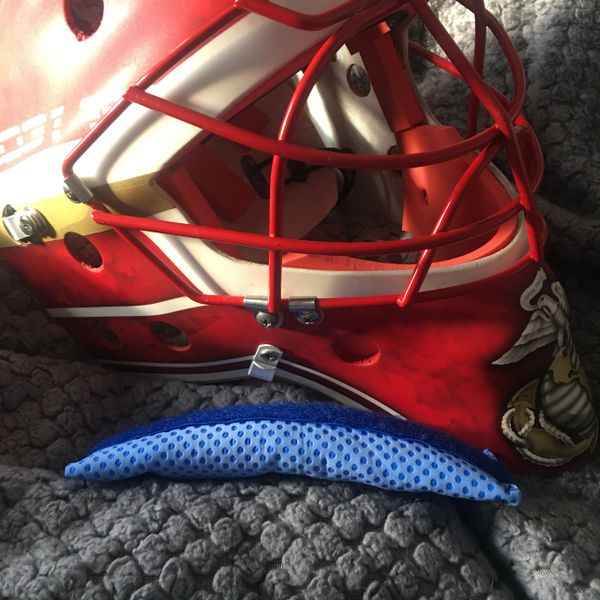 BEAST BAND
PLEASE GO TO OUR NEW WEBSITE MONSTERHOCKEYINC.COM TO PLACE AN ORDER.
THE MONSTER BEAST BANDS ARE DESIGNED TO SOLVE THE PROBLEM OF ILL-FITTING MASKS. THIS LATEST VERSION OF OUR POPULAR KEWL BAND HAS THE SAME COOLING AND SWEAT ABSORBING PERFORMANCE OF THE ORIGINALS, BUT THEY HAVE AN ADDED FEATURE. THEY ARE THICKER IN THE MIDDLE AND TAPER AT THE SIDES, ALLOWING YOU TO FILL IN THAT GAP IN THE FRONT OF YOUR MASK. 
TOO MANY GOALIES KNOW THE PAIN OF SWEAT IN OUR EYES, ESPECIALLY IN THE HEAT OF ACTION. UNLESS YOUR MASK IS PERFECTLY FITTED TO SEAL YOUR FOREHEAD, THERE ARE LITTLE GAPS THAT ALLOW SWEAT TO ROLL INTO YOUR EYES, USUALLY WITH ABOUT 30 SECONDS LEFT IN A ONE GOAL GAME! THIS PROBLEM OCCURS EVEN WITH THICK AFTERMARKET SWEATBANDS. THIS IS BECAUSE A 1/4 INCH SWEATBAND TAKES UP 1/4 INCH IN THE FRONT BUT 1/2 INCH ON THE SIDES - PUSHING YOUR FORHEAD BACK AND AWAY FROM THE BROW OF YOUR MASK.
THE EXTRA THICKNESS IN THE FRONT OF THE BEAST BAND FILLS THAT GAP, LETTING YOU FOCUS ON THE NEXT SHOT, NOT THE SWEAT IN YOUR EYES. YOU CAN'T STOP WHAT YOU CAN'T SEE. DON'T LET SWEAT BEAT YOU!
Reviews
Featured Products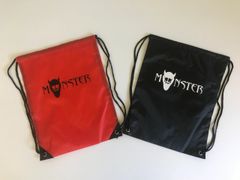 MONSTER DRAWSTRING BAG
$4.99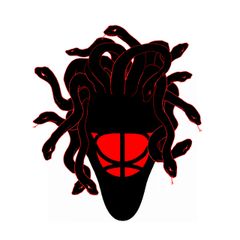 MEDUSA HARNESS
$29.99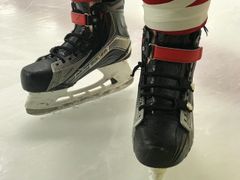 PIPER PRO SKATE STRAPS
$39.99